Web App Development

Web Design
Top 6 Cloud Computing Trends for 2021
Posted on 20-07-2021
Posted by devmin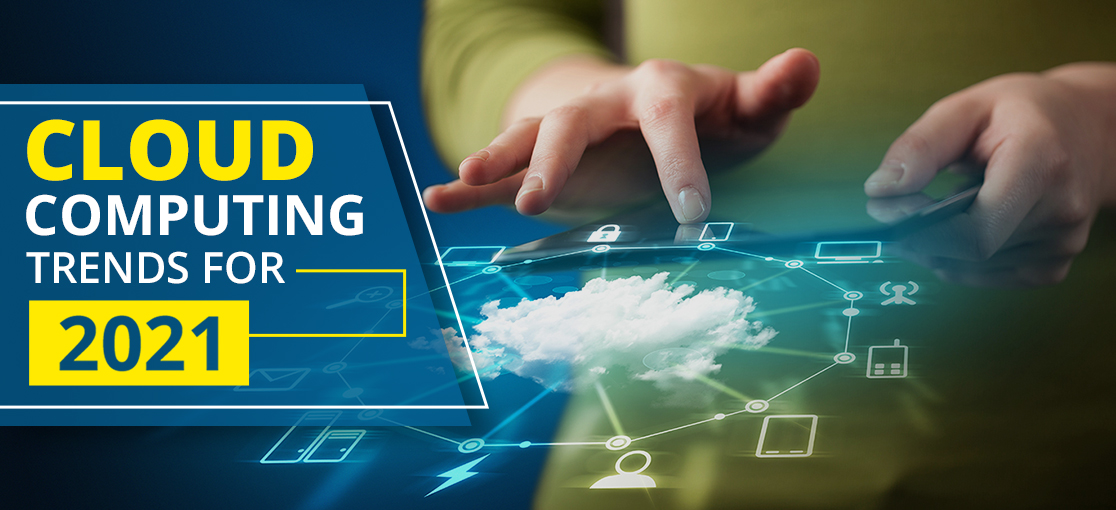 2020 has been the most unpredictable year in recent history. However, the events leading to 2021 and beyond have made a lot of things quite clear. Technology has made its mark in the current situation, reshaping our lives like never before. Leading technology trends like AI, ML, and IoT have set their pace in a revolutionary realm. However, in times of sheer unpredictability, one of the most evolving topics in the tech talks has been cloud computing. Cloud computing is helping the generation adapt and survive in times of change.
For a change, the cloud provides unwavering support to the data-driven, app-based tech ecosystem that is inevitable in today's life—no wonder why cloud computing is one of the most talked-about topics in 2021. Cloud services have revolutionized everything from data storage conveniences to home delivery services, remote jobs, games, and healthcare facilitation. Since cloud computing has become an integral part of today's technological revolution, it is transforming and growing. These are the top most leading trends in cloud computing for 2021
Integration of the Power of Big Data, IoT, and Cloud Computing
The increasing need for cloud is leading to several different trends within the domain.  Combining cloud, big data, and IoT can serve as an excellent deal for transforming business needs. The anticipation of the power of the cloud, big data, and IoT will combine to harness the most of it.
Consequently, the integration of combined services would lead to bring the combination in trends. Many leading organizations are currently harnessing the combination of IoT and big data. Big data helps companies to acquire usable information after processing and to analyze large amounts of data. IoT refers to the concept of using interconnected devices for improved production. In addition to this, the cloud can further enhance this tech combination by increasing production rates and efficiency.
Hybrid Cloud Computing
Hybrid cloud computing is yet another leading trend in cloud computing. Today, many organizations focus on using a hybrid cloud computing system for optimized production and smooth workflows. The advantages associated with hybrid cloud computing reflect superior speed, better security, and trustworthy control.
A hybrid cloud computing system reduces latency and thus leading to more optimized data speed. On top of all, the hybrid cloud offers a result-driven plan regarding security standards with the combination of private and public cloud security. For this reason, several technology experts observe an enactment of hybrid cloud computing in multiple organizations in 2021.
Multicloud
Most organizations are moving ahead to embrace a multi-cloud strategy for their business needs. After the emergence of Covid 19, more and more businesses are migrating data to clouds. That makes the industry more focused on cloud requirements. Many public and private clouds undergo a test to check if companies can tailor their cloud capabilities as per their requirements. Soon in the future, many organizations will develop cloud-based apps that don't depend on a specific cloud service provider.
Building a steadier understanding of cloud needs and the evolution of the cloud industry can help companies to develop applications with a better focus than before. However, this striking shift relies on the growth of cloud capabilities, as time-to-market is improving at a sharp rate. The ability to integrate fluctuating workloads enables organizations to take advantage of multi-cloud trends. However, tailoring cloud solutions to specific processes is an ongoing process that requires consistent governance and investment to translate into savings.
Cloud Automation
The governance issues are pervasive in a multi-cloud approach. It has turned many enterprises onto automation to simplify their public, private and hybrid cloud environments. Moreover, functions like dashboards can be accommodated by such tools as technologists benefit from viewing all of their disintegrated cloud services in one window. This step might lead to opening new avenues for machine learning. By leveraging machine learning capabilities, organizations can create more sensitive data, enabling them to prepare for existing and potential threats.
Cloud Security
As new ways of work created new vulnerabilities to exploit, cybercrime shot up with a sharp increase. Dispersing workloads and data in different cloud service providers make it difficult for organizations to govern and look after security. No surprise that most senior executives believe security and compliance risk is the most significant barriers to embracing the benefits of the cloud.
Creating and implementing insights requires companies to use a proactive approach to cater to the potential blind spots. That is why most enterprises consider security to be a standard while choosing a cloud security service. However, the cloud's efficiency in terms of time and money is the most notable feature. Organizations should realize that cutting corners on the cloud can render their organizational processes opaque, opening a plethora of discreet entry-points for cybercriminals.
Disaster Relief as a Service (DRaaS)
Organizations are continually growing to operate digitally every other day, the cost of downtime is high. An organization cannot afford to bear the loss from cybercrime and other disastrous events. The average price that an organization might pay is close to $13.0 million, while the average cost of downtime is around $5,600/minute. Companies depending on ecommerce cannot afford to bear the risk of this heavy downtime cost. That can be disastrous to their profits as online sales largely depend on quick and hassle-free online access. Meanwhile, security risks and regulations are bounding organizations to be vigilant about the protection of customer data.
Increasing risks of operating online have lead organizations to look at their disaster relief strategies, reevaluate, and consider using Disaster Relief as a Service (DRaaS). The service typically includes an automated disaster relief strategy to respond to issues and breaches faster, reducing costs and liability. It comes as no surprise that this evolving cloud technology has reached $4.5 billion at the end of 2020, with anticipation to grow at 15.4 percent by 2023.
The Bottom Line
Cloud Computing is the next leading trend in the evolution of technology wherein cloud computing, hybrid computing, multi-cloud, cloud automation, cloud security, and a combination of IoT, AI & cloud computing are leading cloud computing trends in 2021 and beyond. Businesses like Invictus Star are looking up to embracing cloud systems in their organization to keep up with the need for time.