Why You Should Choose Agile Methodologies
Posted on 16-07-2021
Posted by devmin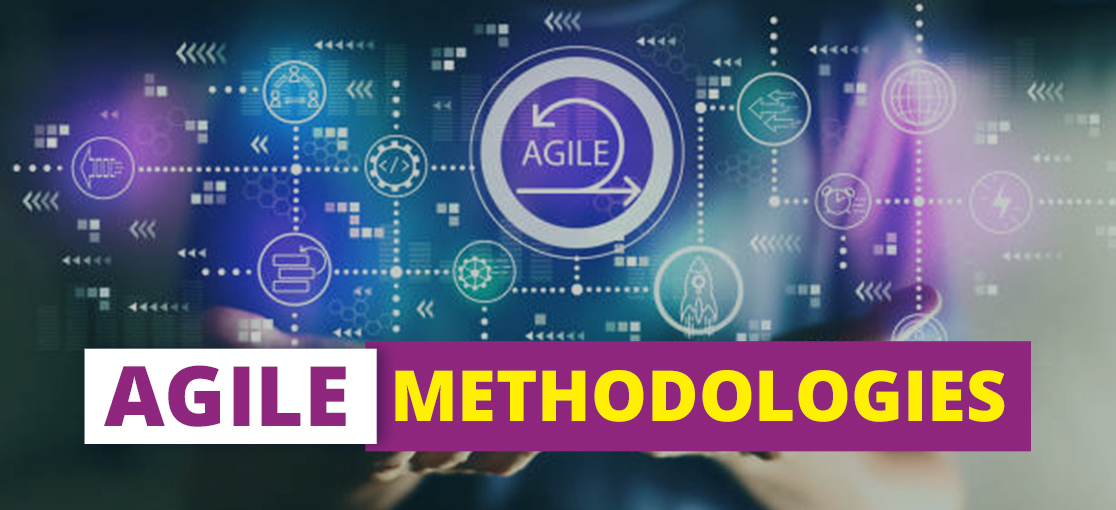 Agile methodologies are a popular project management approach for software development projects. Soon it became one of the most trusted strategies in several other industries. Because of its adaptable nature and evolutionary benefits. Implementing the agile methodology to different projects offers a range of advantages in various aspects.
If you are exploring the top benefits that you can avail of by using agile methodologies for your business and other projects, let's read on! But before moving to its services, let's have a look at the elegant definition.
What is Agile Development Approach?
Agile is an iterative and incremental approach to project management. That helps teams keep up with the demands of the modern workplace. It consists of different methodologies, that are on the concepts of flexibility, transparency, quality, and continuous improvement.
Unlike the waterfall method, which took a project from design to deployment in one steady course. The agile approach defines and dispenses the business goals in smaller yet through a constant cycle of increments. It typically takes a project through several smaller chunks of development, testing, and deployment, instead of a single big round. The constant cycle of design, test, deploy, ensure and deliver continuous sets of highly accurate components in the fastest possible manner.
Advantages of Using Agile Methodologies for Software Project Management
Well-structured Execution
Among the top advantages of agile methodologies is that project managers can execute each step of their project in a well-structured manner. They can allocate a specific period to a given task by dividing the task into small sprints. And get it done by assigning it to a resource or a team of resources, depending on the amount of work. They can better keep a check on the project's progress and provide constructive feedback before moving forward.
Lesser Risks of Failure
Unlike many other approaches, agile methodology can minimize failure risks to a great extent. That is because, as we discussed above, agile employs a process where the work divides into continuous small sprints focused on delivering results in a specific period. So, if there is a chance of failure, the method helps managers identify and rectify it on the spot before they move to the next step. The risk reduction feature of the agile methodology can be an ideal way to avoid substantial losses in terms of time and resources.
Increased Productivity Rate
With agile methodology, managers can improve the productivity rate by getting desired results in less time. The work system created by using agile methodology has an intrinsic time management strategy. Combined with more on-time feedbacks and responses from concerned leads to increase productivity.
Customer Satisfaction
If you are dealing with a client's projects, it is hard to find any management strategy that works better than agile methodology. The approach provides a system that keeps customers at the center by providing them a timeline of the project, initially in the form of sprints and then giving them a feedback slot after completing each step. They can approve or disapprove of anything they think is not going to how they want it to be. That saves a lot of time and resources that may go waste. When the management system only allows customers to overview the project after execution.
Reduced Cost with High Predictability
Since the project divides into smaller tasks or chunks organized iteratively, the chances of error eradicate. If any mistakes occur, they can be identified and fixed early. So that a lot of effort, time, and resources are not put into actions in the wrong direction. Identifying errors at an early stage saves the client and the vendor from wastage of money and time. Or else, if a project is grounded and structured on a mistaken or wrong track, it may require restarting the project right from the beginning to fix the errors. Which, as a result, would double the project cost.
On top of this, with agile methodologies, the predictability of the project cost is more accurate and reliable. Since the sprints in agile methods have a specific duration, the team has a limited time in which a fixed amount of work executes in the given time.
Therefore, the client can more readily understand the approximate cost of the set of features in a software project. The estimates, based on the availability of time and allocated resources given to the client before each sprint. That improve decision-making about the priority of features and additional iterations.
The Bottom Line
That covers our list of the top advantages to access by implementing the agile methodology in projects from different niches. Particularly in software development projects, including mobile apps, ecommerce, ERP, and other web app application development. Using agile methodologies in a project helps teams deal with some of the most common difficulties in project management. Including user satisfaction, cost, schedule predictability, and scope in the most controlled manner.
Invictus Star is a leading Mobile App Development Company in UAE that implements the best practices in the software industry to keep delivering quality and making its customers satisfying. If you want to empower your business and build a product based on the agile development approach, Invictus Star can help you turn your business dream into a practical reality.