Most Important Ingredient in a Successful Brand Strategy
Posted on 8-07-2021
Posted by devmin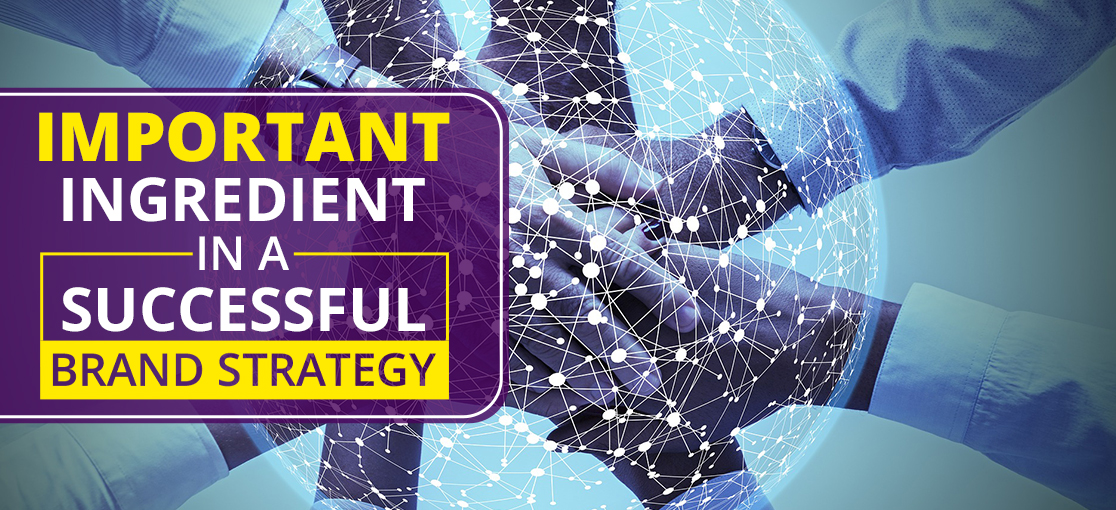 An essential ingredient in a successful brand strategy is consistent communication.
A successful brand strategy consists of a host of different elements. We have logos, colors, vision, brand voice and message, advertisements, quality, authenticity, and a lot more. The right mix of all these ingredients combines to make a successful brand recipe that tastes great! However, the proportion varies with the environment, niche, target audience, and situation. Branding does not necessarily ask for a stringent success recipe. Instead, it is a poor balance of components that boils down to adaption with evolution.
The Success Recipe!
We see that big names in the market keep constantly evolving with the modern needs of the time. Depending on the location, time, and market demands, keep communication adept and adapt to the changes.
The secret to success for big brands is also consistent communication and adaptability. Amazon, Nike, and Apple take the largest market share for generations because they embraced change to meet evolving market needs. They could not have acquired this without consistent communication with the target audience.
That infers to a clear notion if you want your brand to last for years and generations, you should develop a consistent communication strategy leading to an unconquerable branding.
Branding sums up to a sentiment conveyed from founders of the brand to the marketing team and then to consumers.
There is not an exact recipe for building a successful formula. However, this does not mean that you cannot develop a perfect branding strategy. All you have to do is stay vigilant, keep adapting, evolving, and communicating consistently.
Adapt to Evolve
A comprehensive business model provides the structure for any business. However, when your company grows, market demand changes. You need to keep evaluating the changes, test and tweak your business model to have a successful business. It requires various planning and strategizing. The idea is to communicate with your customers, understand their needs, make data-driven innovations, and identify new revenue ways.
For instance, the recent shift in the market was due to the pandemic. It entirely shifted the market demand. That compelled many brands to adapt their business strategy according to the needs.
The most crucial ingredient in a customer-centric branding recipe is consistent communication. Intelligent communication and advertisement can make even a small or cheap product negligible popular. Take some surveys to learn users' opinions, thoughts, and responses about your brand.
Once you learn about the people's mindset and what they want from your brand, tell them that only you can offer them the best. Keep telling them this consistently. That would help them perceive your brand and product as the best subconsciously, and they will speak about your brand whenever they want certain traits in any products. It will present your business as a compelling brand.
Communication Creates an Emotional Connection
Involve your brand purpose and vision in creating an emotional connection with your audience. It works as a backbone for your brand strategy. Brands can build an interwoven community by creating an emotional connection with consumers. Consumers would like to form a loyal relationship with a brand that cares about them – Communication is the key here.
Brands must give a host of opportunities to your customers to become a part of your brand family. They can share consumers' experiences with the audience to make them feel more cared for and valued.
Allow them to participate in hosting meetups, contributing to Instagram chats, sending exclusive discounts, coupons, and gifts, discounts. It makes your customers loyal and builds a successful brand image among the customer base. The better your approach is, the higher are the chances to attract and retain more customers. That makes your customers satisfied and encourages them to come and buy from you over and over again.
Discover your Brand Story
Every brand should have a compelling story to tell its audience. Once you find out your brand story, say it out loud. Use your unique voice and channel it through different mediums. Adjust your brand position and constantly messaging to stay relevant over the years. You might increase your sales dramatically by rebranding and revamping your business model with the need of time.
Set Sight on Your Customers
You want to build a brand that attracts new customers and retains the existing ones. So, you have to be careful about them, what they think about your product and how they perceive your brand. Always be vigilant about the viewpoints of your customers about your brand. Keep finding what your customers perceive about your brand and include that idea in your brand identity.
With loads of data available today, you can easily keep an eye on your customers' preferences and behavior. Cater to their needs and demands. That helps you stay relevant among your customer no matter what changes you go through.
Use the Right Communication Channels
An important factor in establishing consistent communication is the use of the proper communication channels. Once you identify what customers perceive about your brand, you can learn about their preferred communication channels. Preference must be given to the most effective ones. From Google ads and social media campaigns to billboards and publications, use different marketing platforms to spread your voice. Since digital marketing is inevitable in modern marketing needs, brands should emphasize this channel for establishing consistent communication with their audience.
Make it Tough for Competition
You can give a tough time to your competitors by studying them. Analyze their weakness and include that particular value in your business. Keep spying on your competitors and come back with a substantial value that connects you with the audience, eventually leading you to become the front-runner in the market.
Walk the Talk – Take the Lead
Authenticity is the key to keeping your communications living. No matter how much you rely on marketing and publicity, if users find it any lesser than you claimed, they would abandon buying the product or service. And your brand is not here to die just after a few months of generating lucrative revenue. It is here to stay, evolve, and lead for generations.  So, the most crucial element of result-oriented communication is authenticity.
Build the company's culture and product quality according to what you want your brand to be known for. When your customers come in contact with your brand, they must feel the authenticity.
The Bottom Line
So, what is the crucial ingredient in the brand strategy?
Cutting a long story short, consistent communication that portrays your company's authentic representation can forge your branding ahead.
No matter what your niche and business category are, be relevant to your audience. Invictus Star is a leading web and app development company in UAE and constantly strive to fulfill its customers' requirement to emerge as a powerful brand that never disappoints.