Online Reviews & Why They Matter in Ecommerce?
Posted on 2-07-2021
Posted by devmin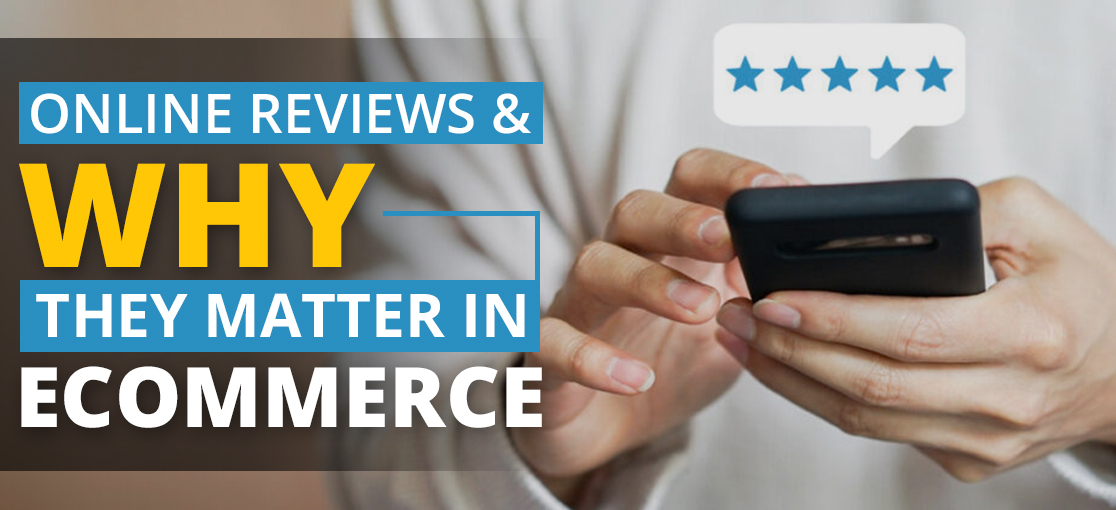 Customers are reading online reviews almost 95% of the time before making a purchasing decision, thus changing the way they make purchases.
Several factors contribute to the success of your online business. The quality of your product, the brand image you portray, and your company's reputation are definitely crucial for boosting your online sales. Positive reviews, however, are what encourage potential customers to buy from your store and increase your sales.
Whether you belong to the software industry or the healthcare sector, the consumer's online shopping behavior is the same regardless of the type of business you run. People search the internet to see what ratings you have gathered from past customers, including Google reviews, Facebook reviews, and other social media ratings.
Your business might be doing well to a certain extent, but you need to grow and thrive more. And for that, you need to get customer reviews. For ecommerce stores, recognizing the importance of reviews is essential, so they may consider obtaining more positive feedback.
Your Online Store Needs Reviews
The reviews a store receives online can provide insight into the quality of the store. You can create a foundation of loyal customers who will support your business and strengthen your business by using positive words. The blog outlines the key factors why online reviews are so crucial for your ecommerce store.
Establish Trust
Almost 3.5 trillion dollars was spent on ecommerce in 2019, globally. Numerous brands exist in different business categories. However, it's hard to know whom to trust without any means of determining quality or reliability.
The best way to determine quality is to offer quality, but reviews are an excellent representative for quality, especially for businesses existing solely online. Customers can trust a business's online reputation when they can read dozens of reviews showing good quality and service. A company with positive reviews has a 63% greater chance of gaining the trust of its customers.
Increase Sales
It is a psychological process that people look for social proof before trying something new. If customers can gather information about judgments and decisions based on the collective actions of others, they are better able to decide in favor or against something. As a result, a positive review from another person who made a similar purchase gives more confidence in buying an item.
Essentially, consumers want to see proof that a product or service is worth their money, apart from traditional advertisements. The power of social proof is evident in the fact that reviews are multiple times more trusted than other forms of advertising.
Solve Problems
Reviews aren't always positive and, even if they're not, that's fine. It is impossible for a business to be perfect for every customer, and customer reviews help identify those areas that need improvement. Some angry customers who misconstrued a situation may write negative reviews.
Despite this, if you find multiple negative reviews with similar complaints, there could be an underlying issue that needs to be addressed. For instance, if more than ten customers praise the products you sell while criticizing your complicated checkout process, you must invest in developing a better checkout process. Create a better user experience for your website so that customers make a seamless purchase. Almost nine in ten online consumers have been discouraged from buying from a business after reading a negative review, so you should try to fix any existing negative trend.
Making it Easier for Customers to Make Decisions
During online shopping, customer decision-making is a lot more complex than in-store shopping. Online shoppers usually take more time to select a product. They might compare, research, study and read reviews about the product before finally buying a product.
Meanwhile, if a product has online reviews, it contributes a lot to help customers make the buying decision.
Reviewers often contribute to the decision-making process by providing insight into the material, color, size, and shape of a product. For example, customer reviews that inform shoppers about size can ease their confusion if a product appears too small in the picture.
Support SEO
Every online business strives for high rankings in the search engine results ranking. Nonetheless, it can take a lot of effort and time to build an SEO-friendly web presence. The good news is; customer reviews help you achieve your SEO goals without you having to do anything.
Customers use keywords to describe your products, which leads to more relevant content being associated with you on the internet. In this way, the benefits are twofold. Users are more likely to find your store when searching for related keywords, and positive reviews are more likely to show up.
How to Obtain More Positive Reviews
If you run an online business and are still wondering how to encourage customers to write reviews, read on to build a strategy to get customer reviews and boost online sales.
Offer the best service and gesture to your customers. Compassionate clients are compelled to write reviews for your business and naturally support you.
Therefore, it is essential to instruct your employees and customer service representatives to behave well when interacting with clients. Try to solve their problem at the earliest. Try to solve their problem as your own since it eventually becomes your problem if the customer has a problem with your product or service.
A majority of online stores strive to improve their user experience and customer service. By going the extra mile, you can get their positive review. Your customers will feel appreciated if you send them personalized messages and offers. By doing this, customers are more likely to leave a review, and overall sales are improved.
Conclusion
It has become a leading concern of many online businesses to obtain more positive customer reviews. Businesses initially felt they had lost control over their online reputation after the rise of review influence. However, now companies are putting in more effort to improve their services to obtain customer reviews. As a result, many online businesses offer perks for writing online reviews, particularly positive ones. Offering prizes in reward for adding check-ins and writing positive reviews is an excellent way to encourage customers to write reviews.
There is no doubt here that negative reviews can be there, alongside positive reviews. In response to a negative review, write an appropriate reply to shape your organization's reputation. Providing constructive responses to the negative reviews creates an overall positive impression of the company and helps it earn a better reputation.
Invictus Star can help you devise a perfect brand strategy to help you grow and obtain positive customer reviews. If you are looking for your next technology partner, get in touch with us and start growing rampantly.