Brilliant Ways to Market Your App for Free
Posted on 19-07-2021
Posted by devmin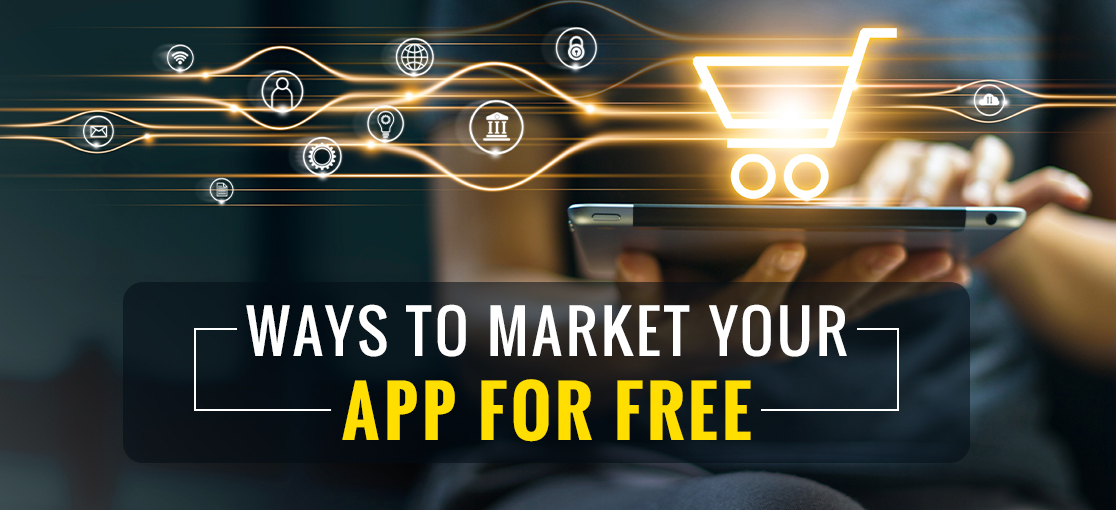 While app users are bombarded with a wide variety of apps, they are having difficulty choosing the right app with nearly 2.8 million apps on Google Play Store and 1.8 million apps on Apple App Store. Meanwhile, software development companies are spending countless hours and meticulous efforts to build mobile apps that make a difference in the market.
Considering the wide variety of apps available via the app store today, app marketing has become the second most integral step of app development, after functionality. However, it wouldn't be incorrect to say that efficient functions and operations are significant contributors to mobile app marketing and speak loudly for self-promotion. There is no substitute for quality. Furthermore, even if you have the best marketing campaign, if the app function is faulty, that will be a waste of time and resources.
Let's get back to app marketing. Good marketing strategies must be in place as soon as the app is launched. In addition to the app developers' efforts to develop a great app, marketing efforts need to go along with those efforts. Using some essential marketing methods can bring results to the app. Let's explore some of them.
Be Aware of Your App Audience
A business must understand its users. You cannot run a successful marketing campaign without knowing your target audience. No matter how good your app is, without effective marketing, it cannot achieve success. Similarly, app developers should be aware of demographics before they develop an app to serve its purpose well from the very beginning.
Know your audience's demographics by conducting market research. The demographics of your audience include its age, gender, location, preferences, as well as its relationship or marital status. Having an awareness of this information will enable you to create marketing content that is more targeted. In order for prospects to take action, your advertisements and promotions need to be extraordinary and well-engaging.
Market Your App From the Beginning
It is a great way to market your app before the launch. You can use multiple strategies at this stage to maximize your success with your app. When you run a marketing campaign at this level, you will create anticipation for your app among customers, and you will have a chance to go viral when you launch it.  Several app development companies offer their clients discounted offers and promotional packages. You can also do that.
Consider conducting a survey among the public, asking them for their recommendations about the features in your app, and making them aware of the solution they can utilize after installing it. It creates awareness of your app's function, and if your app exceeds the users' expectations, it will be successful.
Use Social Media for Promotion
The importance of social media promotion cannot be overstated. Social media platforms such as Facebook, Instagram, Twitter, Linked In, Pinterest, and others allow you to directly communicate with your audience. Your web presence among your target market can be expanded by using social media.
According to your target audience's age, you should choose a specific platform that is highly popular among your target audience. Let's suppose, if you target middle-aged people, Facebook and Twitter are good choices, but if you are targeting young people, Instagram and snap chat make more sense.
Your ads should let your audience know you have an app. Provide a clear explanation of your app's purpose. Finally, make sure that they have access to the download link.
Create a Content Marketing Strategy
Your app can be successful with an effective content marketing strategy. You should create a blog before you launch your app. You can find several websites that provide free tools for promoting your apps and backlinking to them. Get in touch with them and write about your product to build an audience before launching your app.
Let your audience know how your app can help solve their problem in your blog post. You can share screenshots and videos of your app's features. Your content needs to be engaging enough to drive traffic, raise brand awareness, and generate conversions. Providing quality and informative content can build trust between you and your audience. Send your blog links through e-mail marketing to engage your audience.
Optimize your App For the App Store
App store optimization increases the visibility of the app. It helps rank popular apps at the top of relevant search queries. Pick keywords that accurately describe your app. This will enable your app to be categorized correctly at the store. You will rank higher if your keyword is relevant. A high-quality video and image must also be included in the app to attract new downloads.
To increase the rating of your product, ensure it is bug-free. This will boost your app's rankings in app store searches. Moreover, it is imperative that you write relevant content that highlights the app's strengths and features that make it successful.
Improve your App SEO
Get your app on the first page of Google search results by improving your App SEO.  You can create authenticity in your industry by increasing backlinks from other websites. Additionally, Google includes your app in a trusted list when it finds the content authentic. Make sure that your app's features are described with the right keywords. Also, meta descriptions and metadata on your website should be relevant to the website.
Influencers or Celebrity Based Marketing
Reach out to influencers to spread the word about your app. For an instant boost to your app's popularity, use celebrity marketing if your budget allows doing so. By collaborating with social media influencers, you can also attract an audience for the launch events. You can use this opportunity to educate your audience about your app's features. An announcement of free rewards for attendees of events will attract even a larger group of audience. Besides this, you can increase your popularity by asking social media celebrities and influencers for shootouts.