10 Features To Include In Your App
Posted on 7-07-2021
Posted by devmin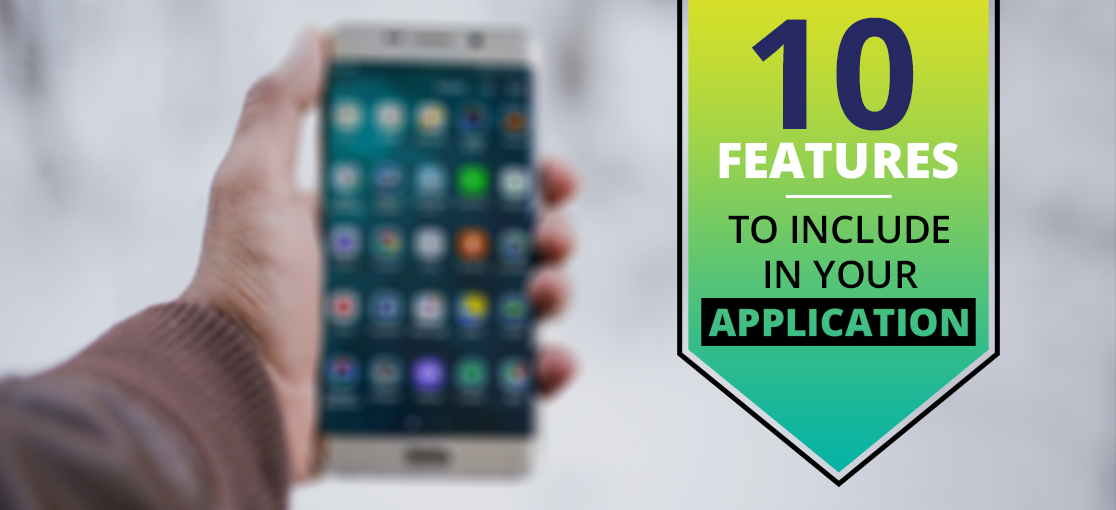 Mobile app evolution is a protruding tech future right ahead of us. Businesses are acquiring this technology to stay relevant in the market and improve customer experience.
What makes mobile app demanding to this extent?
Most of all, features can make or break any app.
So, what features in the mobile apps are important? Generally, features are app-specific. It must consist of elements according to the app's nature and purpose.
However, some standard features in the mobile app must be included in almost all types of applications. Invictus Star rigorously focuses on selecting app features to offer a convenient, professional, and brilliant experience to app users.
Let's take a look at some must-have features for a customer-centric and user-friendly app.
1.   Easy Login
The login experience should be hassle-free and quick. Too many questions and unnecessary fields make users confused at a very early stage. It is recommended to ask what is crucial to log in to the app.
Other data can be taken progressively during app use. When users find it necessary to give the data for specific tasks, they do not hesitate to share. However, if there is no point in asking the users' pre-school information, it seems suspicious and unethical.
2.   Push Notifications
Push notification is an essential feature of mobile apps as it keeps convenient communication between the company and users. Notifications help keep users engaged and get back to the app when they are away from the app. More to this, it's hassle-free – easier to send and doesn't require cleaning up for taking extra space.
Additionally, it allows you to engage the user through an all-inclusive experience. You can send messages in the form of text, images, GIFs, Videos, or a combination of these. Keep users informed with new offers, updates, fresh arrivals, and deals frequently to get them to the app.
Push notifications help businesses acquire three times faster responses as compared to emails. However, push notifications are found more practical to 70% of users when personalized and relevant. As compared to the unsolicited reports, relevant and personalized messages work better as they are aimed at a particular group of audience and likely to lure them for the desired cause. In short, it is one of the simplest ways in the digital market to attract customers to visit the app regularly.
3.   User Feedback and Review System
User review and feedback hold particular importance in the app performance. It can be unexpectedly beneficial to the app if they add a review or rating features in the mobile app.
Add a review submission feature allowing users to give ratings and submit their reviews.
However, users generally do not bother to go to the app store and review if they are satisfied with the performance. Therefore, asking explicitly about their feedback in a pop-up message can persuade users to use the app. Let's suppose your app rating accelerates to 4 or 5 stars from a 1-star rating on the app store, and then the conversion rate is likely to grow exponentially.
4.   Speed
Fast loading screens are integral to successful mobile apps. Mobile apps are meant to process quickly and perform tasks fast. When users find themselves bound to stare at nothing but a screen-loading symbol, they initially get bore, and this boredom very quickly transforms into frustration. Frustration always leads to app abandonment in the long run. Several alternatives are available in the mobile app market that users could – and should not – never remain loyal to a bad-performing app. To ensure your app load fast, keep it simple.
5.   Security
Internet security is an ever-growing concern of internet users. Mobile apps that require storing personal information and sensitive user data must provide reliable security to avoid security breaches. Since hackers may Steal customer data for identity theft or fraud, it's crucial to keep a strict security system in place. The app needs to adopt a robust security system to avoid malware into apps or devices to access data and steal screen lock passcodes.
6.   Search Options
A search bar can make the app experience more convenient and comfortable. The ability to search through the app elements and content can make your app easier for your users. However, it might not be functional in some app categories like games and some photo editing apps, but other apps like socializing, entertainment, business, chatting, tracking, and other apps should include this feature to offer users a convenient experience.
7.   Updates
Updates are crucial to keep your app thriving in the market. Since the design needs and users' expectations grow with time, it's essential to fulfill them both at the right time. Collect, evaluate and implement user feedback to make changes for better performance of the app.
If you keep updating your app occasionally, it is more likely to stay relevant to your customers. Updates are essential to keep your app fresh and give users more of what they require.
8.   Simplicity
Simplicity increases the chances of growth and popularity for an app. Simple design with uncluttered screens intuitively leading to the next step in the app process improves the customer experience. Reduced ambiguity encourages them to come again to the app.
Since many people have short attention spans, they cannot cater to the app's complex features. There are chances that people lose interest fast when they come across difficult navigation.
Use universally accepted conventions for your app, like encouraging scrolling instead of clicks and using spur gear icon for settings. If the app users find it difficult to access information quickly and easily, they might end up closing the app. possibly switching to your competitor's app.
9.   Intuitive Navigation
Navigation itself is not a specific feature, but it adds a lot to the app's performance. A study in this domain found that 14% of the app users delete the app because they are difficult to use. The app's interface and flow should be easy to use for users. The app's architecture should be built in a way that makes it intuitive for users.
There should be a bare minimum cognitive load for users, at least with the app's most-used and basic features. Try to keep your app simple and smooth. Elements that upsets the app's intuitiveness should be avoided, especially in the introduction phase. Gradually, when users get familiar with the app pattern, you can tweak it to enhance the experience.
10.   Personalization
Personalization is becoming one of the most demanding features in the mobile app. App owners can use user data including gender, age, demographic, contextual, and behavioral targeting to deliver personalized experiences. A demographic personalization includes targeting certain age, race, and gender for a particular message, offer, or updates.
On the other hand, personalization based on contexts target a specific device, time, and location. Similarly, behavioral targeting focuses on the user's previous behavior related to the content, shopping, and history.
The emergence of modern technologies like AI and ML has significantly enhanced the personalization experience in apps for users leading to a more satisfying customer experience than in the past. The integration of personalization in the apps is no more a choice but an essential app feature.