Quality Assurance

Web Design
Core Features of an Ecommerce Website
Posted on 19-11-2021
Posted by devmin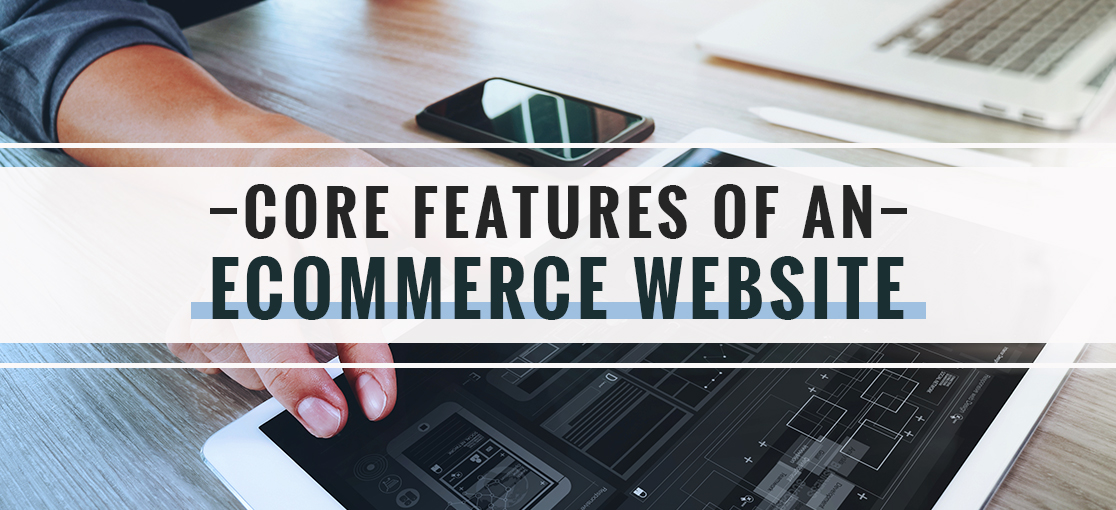 To remain competitive and relevant, every ecommerce site should have certain elements to facilitate its users. This ensures the smooth operation of your business. You will be able to run more efficiently online. Investing in an online platform could lead to future success.
While looking for setting up an ecommerce store for your retail business, make sure you add the essential features to get the most out of your effort, time, and investment. This will result in increasing sales and boosting profits for your business. in this post, we will cover the top ecommerce website features and functionalities so that you can build or update your website more efficiently.
User Friendliness
A user-friendly website is one designed in a way that is easy to understand for visitors. If you want your website to appear fancy, the site's layout must be equally appealing to your customers. Your store's layout should reflect the reviews you are receiving. This does not mean that you will listen to everything and ignore standards. However, the layout of your website must be optimized in a way that maximizes its usability.
Your customers shouldn't be confused by the features and capabilities you offer. Be very cautious about the selection and use of your store's visuals and functionalities. The ultimate goal of your company should be to offer your users and customers a flawless experience. Integrate the following features in your ecommerce store to make it most profitable for your business.
Simple Navigation
Any e-commerce website's success hinges on its navigation. It should be neat, straightforward, and simple to use. You need to make sure your website's navigation is simple to utilize so that your visitors don't get lost while browsing.
For a successful e-commerce website, simple navigation is essential. This e-commerce website feature should make it simple for your customers to navigate your sites. It improves the likelihood that they will purchase from your online store.
Organized product categories and classifications make navigating easier. Your item should be organized into categories and classes. It makes it easier for your customers to browse the products they are looking for.
Search Feature and Filtering
Product search and filtering are popular ecommerce website design elements because they help customers quickly and easily discover the goods they want. Shoppers may use search features and filters to narrow down product listings and focus on the items they really want, passing over the pages and products they don't want.
The addition of an easy-to-use search option to the website dramatically increases its usefulness. Customers only need to input the initial character, and the website will anticipate their search and display results as they look for a particular product.
Excellent User Experience
A well-designed, uncluttered, and responsive website structure also aids search engine ranking. It crawls your website and ranks it on the top page of search engines. What do you notice on high-ranking e-commerce sites? They feature a well-designed and well-steering structure. Because of this, they are listed at the top of the program listings.
The user interface and user experience are the two key factors that aid in developing a relationship between the customer and the product. The user interface (UI) of a website is concerned with its technological aspects. If the users find the website fascinating, they follow all of the requirements to subscribe to it. UX, on the other side, is concerned with the user's experience while surfing your website. These two elements add a lot to determine how users react to the ecommerce store.
Customer Support and Live Chat
Customers should be able to communicate with you via live chat. It adds a lot of value to your website since it allows for rapid contact to assist your visitors with whatever step they're having trouble with. The satisfaction through effective customer support you offer is critical to the success of your company. Many e-commerce businesses have introduced live chat assistance to their help desk software rather than making clients wait for responses.
Multiple Payment Methods
With the popularity of online shopping growing, businesses that do not yet have an online store should explore the possibility of setting up one as soon as possible. For those who need to avoid long lines in stores or those who are busy, online shopping can enhance the customers' likelihood to buy from available online stores.
While shopping online, customers look for convenience, facilities, and security. Being able to shop with their preferred payment method, they can easily rely on the store and checkout without confusion or security concerns. The ability to shop using multiple payment methods increases the number of checkouts leading to increased profits.
Feature Best Sellers to Increase Profits
Best sellers and related product suggestions are an excellent ecommerce website features that improve profits. This feature will not only enhance customer experience by allowing visitors to learn a lot about the product in your look, but it will also make it easier to upsell accessories and related goods.
A large number of your visitors come to your website. There are many who will remember your offerings and will return to look at a lot more, increasing the chances of them returning to the website in order to purchase for a lot more.
Customer Feedback
When it comes to making purchases and decisions, word of mouth reigns supreme. These days, there's a trending topic in retail, called affiliate marketing and it is getting a lot of small and medium scale businesses' attention. The relevance of customer reviews inside the buyer's journey is a natural extension of that.
Your consumers, on the other hand, are interested in learning more about other aspects of your business, such as insurance, management, offers, business and cultural values, and so on. However, online reviews do not have a singular impact on buyers. Google's search algorithms are also influenced by reviews.
When it comes to retail, Google's search ranking parameters are "entirely dependent on a connection, distance, and prominence." Reviews do not obstruct the relevance or distance. However, a large number of reviews tell Google's algorithm that the business is well-known, which might help a company's local ranks.
As a result, the feedback and recommendation are far more beneficial than they appear to be. As a result, provide your consumers a place to leave their feedback and recommendations. This will give them a sense of having a voice and will demonstrate that you appreciate your customers.
The Bottom Line
All of the above-mentioned features hold a great significance in forming a profitable ecommerce store. Make sure you choose a professional ecommerce development company that adds all of the necessary features to make your website flawless with great feasibility for your website visitors and customers.