Why are Businesses Embracing Dramatic Digital Transformation?
Posted on 15-07-2021
Posted by devmin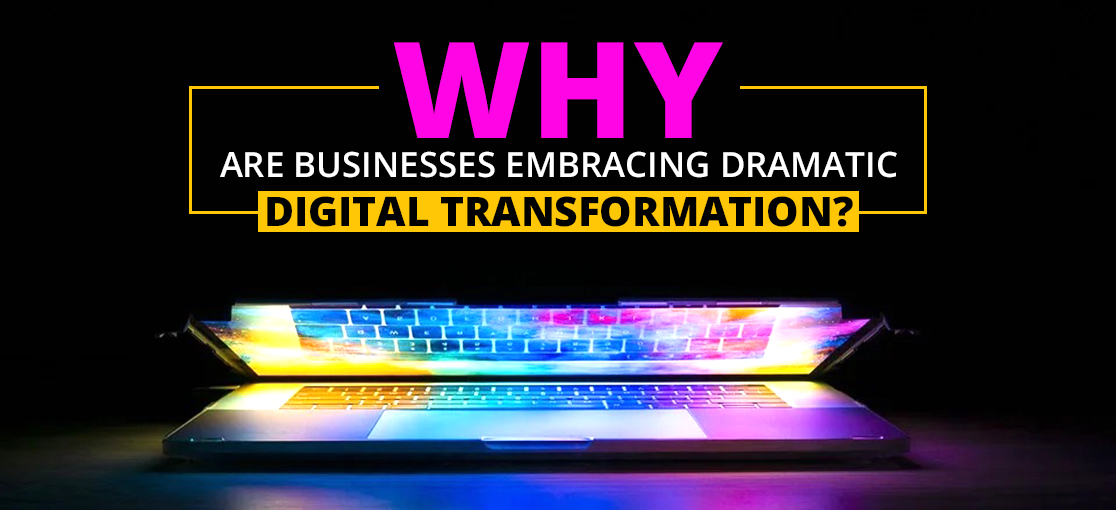 We are about to move in the third quarter of 2021, and covid 19 is still hitting us. Unfortunately, we still have not entered a post covid era; the numbers are still growing at an unstoppable pace. Businesses that chose to embrace digital transformation took the right decision and won the game.
The emergence of covid 19 has restrained us from socializing, shopping, traveling, and much more. That has limited us to our homes with no other options but to move online for most of our daily needs. The situation has grown to an unbelievable extent where everyone is dependent on online facilities. That has lead businesses and retailers to go online to fulfill users' needs and meet their expectations. Both online and physical stores and service providers are compelled to offer online services visible to their target audience.
We can see a worldwide surge in digital transformation at an uncontrolled pace across diverse economies. Digital transformation refers to adopting digital technology and platforms. To transform business processes from physical or digital to digital. The digital transformation journey comprises several different methods and functions. Including using the latest technological solutions for communication, collaboration, and provision of services. More like moving data to the cloud, and automating business processes and staff responsibilities.
Mukhisa Kituyi, secretary-general of UNCTAD, shared the following remarks about the impact of Covid'19 and the Global digital move.
"The COVID-19 pandemic has accelerated the shift towards a more digital world. Changes we make now will have enduring effects when the world economy starts to pick up again."
The impacts covid 19 has made and still making are not going to change sooner. Consumers from emerging economies are getting used to the dramatic digital change and anticipate shopping more online in the post-COVID era.
Operating from Home, Organizations are Forced to Embrace Digital
As the pandemic penetrates our homes, offices, and markets, we are left with no other option but to quarantine and protect ourselves. Many businesses and organizations are forced to operate from home. That requires their employees to organize and manage their work remotely. Besides that, people are scared and horrified to live the way they used to do before the pandemic hit us. As a result, digitization processes remarkably sped up to carry on with this abrupt demand for work from home.
A global survey reports that a boggling 97 percent of people believe that the pandemic accelerated the digitization in their companies. A majority of organizations are embracing the change to remain active in the market. If they don't consider going digital, they might not be able to breathe in a competitive business environment. Where businesses are constantly making efforts to take the largest market share via digital or non-digital means. Therefore, a majority of people reported the acceleration of digital transformation at their workplaces.
The Impact of COVID-19 on Digital Transformation
Covid'19 has heavily impacted digitization in the world. Irrespective of boundaries and economies, digitization grew in every part of the world. It was the need of the hour; companies could either accept it or say goodbye to their consumers.
According to the Statista reports, the estimated worldwide expenditure on digitization will ascend from 1.3 trillion U.S. dollars while growing 10.4% yearly. However, experts believe that the rate of digital transformation has been restrained due to the economic recession caused by the outbreak of COVID-19. The pandemic has also highlighted a severe need for businesses to embrace digital change for enhanced operational efficiency and enriched customer experience. These two elements play a significant role in driving digital transformation initiatives in different organizations.
Embracing Technology
The evolution of technology is an old practice that is being updated in every era. As soon as we move into a more advanced, faster, convenient, and digitally empowered world, we embrace technology most abundantly. We are all well aware that the process of digital transformation is unachievable without implementing the technology. The world strongly relies on technology to transform digitally.
As a result, investments into digital transformation reached 4.92 trillion U.S. dollars in 2019 and are estimated to reach a total of 7.8 trillion U.S. dollars by 2024. Cloud, artificial intelligence, machine learning, data analytics sciences, and the internet of things are among the leading and most adopted technological innovations. Indeed, tech evolution has played an indispensable role in the digital transformation wave across the globe.
The Bottom Line
Covid'19 has wholly flipped the picture. Who knew that this unseen virus has the potential to delay the airlines, stop leading business' meetings, and whatnot. It made us acquire ways that we never did. Businesses are facing a significant challenge to keep up in times of pandemic.
Digitization emerged as one of the most excellent solutions to the current scenario, and most businesses and organizations embrace digital transformation. Adopting better ways of doing business is the best practice of all time—companies endeavor to embrace new ways to change better. At any time, you can evolve and start making a more significant revenue. No matter what, change for the good is necessary. On top of all, if you are witnessing a prevalent challenge in the market, there are high chances technology can save you. Today, we live in a world driven by technology where organizations are left with no other option to go for a technological revolution for digitization.
Make the Right Digital Choice