6 Features to Consider When Developing an eCommerce Website
Posted on 29-07-2021
Posted by devmin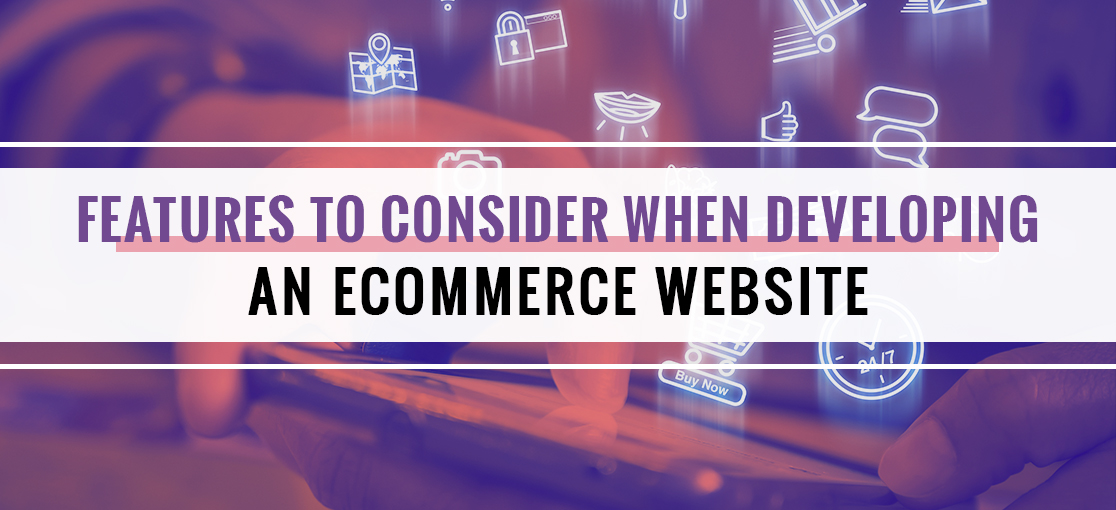 Online businesses are blooming for all the right reasons – last year, the online world witnessed 2.05 Billion online shoppers. That is because the development of eCommerce website has become easy. However, one must know that developing an eCommerce website can be daunting as there are many aspects to consider. From user experience to performance, several factors need consideration before you start designing your eCommerce website.
In short, your eCommerce website helps attract new potential customers and allows your existing customers to engage more with your business. Thus, your eCommerce website needs to be the perfect amount creative and technical.
If you want your customers to have a smooth user experience while shopping online, look at these six fundamental factors that one should consider when developing an ecommerce website.
Platform/CMS

Content Management System (CMS) is a platform through which you'll be managing your eCommerce business. Deciding and selecting an eCommerce platform is an initial essential step, and no wonder it can be an enormous task.

WordPress, Magento, Shopify, BigCommerce, 3Dcart, and Joomla are some of the most widely used eCommerce platforms. Other basic options for CMS platforms are Drupal, WooCommerce, and Hybris. A quality CMS platform is vital for your business; think of it as the lifeline of your online store. Look for a CMS platform that is:

Easy to use
Affordable and in your budget
Offering plenty of themes
Provide security options
Accommodates a range of payment options
SEO friendly

However, selecting an ideal CMS platform solely depends on the goals you intend to achieve.

Responsive Design

It's essential to choose a design that compliments your overall business look and feel. In all honesty, the design is that one element that makes or breaks your eCommerce website. It constitutes a significant chunk of user experience. It's recommended that you should use images, font, colors, and theme in coordination. Whatever design you may choose, make sure it all aligns perfectly with your brand representation and leaves a lasting impact on your visitors.

However, having a perfectly designed website will do nothing if your website is not responsive. The number of people accessing websites through mobile phones is continuously rising. According to Micheal Hodgdon, COO at Infront Webworks, "almost 60% of all internet access is done using a mobile phone." Having a responsive design will make your website easily accessible across multiple platforms. It further makes sure that mobile users are provided with the best user experience no matter the device.

Speed Optimization

Looks won't matter if your online eCommerce website will take too much time to load a product or a page. The loading speed of an online eCommerce website is essential to gain and maintain customers. A slight increase of 1-2 seconds in page loading can significantly increase your website's bounce rate. If your website's loading time exceeds the five-second mark, your customer will end up visiting your competitor's website.

Use faster-hosting servers, including caching, compressing images, and using memory technology where necessary, are some things that one should keep in mind when speed optimizing your website.

Site Search

Incorporating a site search option on your eCommerce website will simplify the search process for your end-user. Site search, when paired with autocomplete enables the user to discover items and products quickly. Moreover, using the faceted option for site search will allow the user to narrow down their searches.

Utilizing the site search option will make your customer find what they are looking for more quickly, resulting in a happy customer. And for all that matters, we know that there's nothing more meaningful than a satisfied customer who can translate their satisfaction into higher sales.

Secure Website

Having a secure online eCommerce website is critical for all eCommerce businesses. The threat of your website getting hacked is always there. Therefore, having a secure website is beneficial for both you and your customer. To keep your website secure from threats, it's important that all eCommerce businesses implement the SSL (Secure Sockets Layer) encryption to keep their customer's data protected and safe. Nobody wants to enter their card details on to a website that is not secure.

Having an SSL certificate will allow your customers to input their information without any hesitation or fear. It lets the customer know of the authentication in order to make their purchases secure without any worry of their data being misused.

A simple practice of not saving your customer's card data on your server can let the customer be assured of their data being safe and protected by your company.

Guest Checkouts

Several businesses require their shoppers to create an account before they checkout to make future follow-up communications easy. Statistics show that 23% of shoppers abandon their cart when forced to register or create an account.

It is suggested that online eCommerce websites make it super simple for their customers to checkout the products. We need to consider the fact that not every customer wants to go through the process of creating an account to checkout. Therefore, the best practice you can do to make your customers register is to encourage them via offers or discount codes.

Are you planning to start? Good Luck!

If you are freshly starting with your online eCommerce website, the features mentioned above must be considered. Incorporating most of these points will create a robust, interactive, and user engaging online eCommerce platform.